Discussion Starter
·
#1
·
Chaffles are a protein-packed option to help replace some of the foods we miss the most. They can be made sweet or savory, making them perfect for anything from a sandwich, biscuits and gravy replacement, or quell a craving for cinnamon rolls. The recipe is quick and easy, only requiring a few ingredients and a waffle iron.
Did I mention they taste amazing?
Basic Chaffle Recipe
1 egg (mixed well) and then blended with shredded cheese.
Wonder Bread Chaffle
1 Egg
1 Tbsp Almond Flour
1 Tbsp Mayo
1/8 tsp Baking Powder
1 tsp Water
My Most Common Recipe
(I change it up and experiment.)
1 Egg
1 Tbsp Almond Flour or Pecan Flour (or a mix of the 2)
1 Tbsp Mayo or Cream cheese
1/8 tsp Baking Powder
Mozzarella cheese (as little or much as you want, experiment until you find what works for you.
My Chaffle Tips
I don't use a full-size waffle maker because they end up too thick.
Don't add the batter until the waffle maker is hot. (The light goes out.)
Don't peek when it is grilling. I leave at least 4 to 5 minutes.
Don't use any kind of spray in the waffle iron.

If you want crispier chaffles add a little shredded cheese directly to the waffle maker before adding the mixture and on top.

The leftover batter (refrigerated) is even better the next day, so I may start making the batter the night before.
Experiment. with the recipe.
I use the Dash mini waffle maker. I paid around 10 bucks at Target, but you can find them on Amazon too.
It's safe to say that I am pretty much addicted to chaffles.
This one is because I was craving a taco and was tired of lettuce wraps.
This one is because I was craving a cinnamon roll for some reason.
This one is because I was craving a ham sandwich.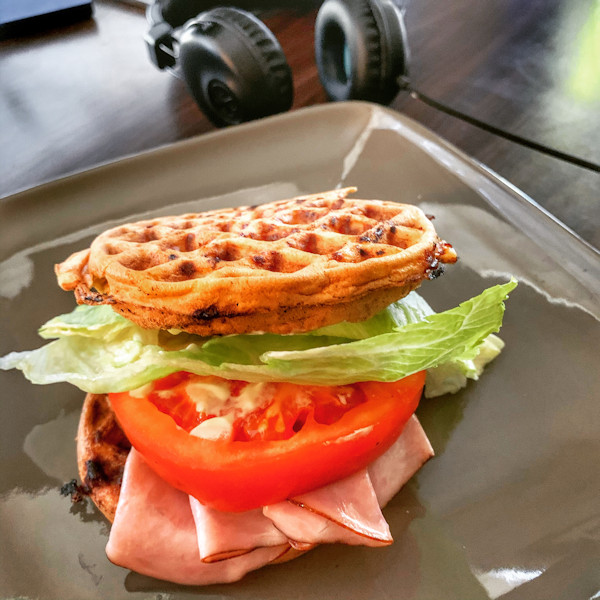 This one is because I wanted biscuits and sausage gravy.
Is there a 12 step program for chaffles?